How Noah responded to the grace of the Lord and what that means for us
GRACE: charitos (χάριτος)
Charis (Χάρις) appears more than 150 times in the Bible, mostly in the letters written by Paul. The first usage of the concept, however, is not for first-century Christians, but for pre-Abrahamic Noah (Genesis 6:8) when the Lord decided to destroy the evil that ruled the hearts of all the people in the world. It had been more than 1600 years since the people first called on the Name of the Lord (Genesis 4:26) and only Noah, of all the people living, was considered righteous, finding favor and grace ḥēn (חֵן)with God. Literally translated from Hebrew, ḥēn means grace, favor, and goodwill, and was translated to Greek as charis means in the Septuagint.1
The Lord told Noah that He intended to "make an end of all flesh," and He gave Noah instructions to build a sanctuary of salvation: the Ark. Only the living things on the Ark would survive the catastrophic floods to come. Noah's commitment to the Holy One stood out in a world of chaos and evil.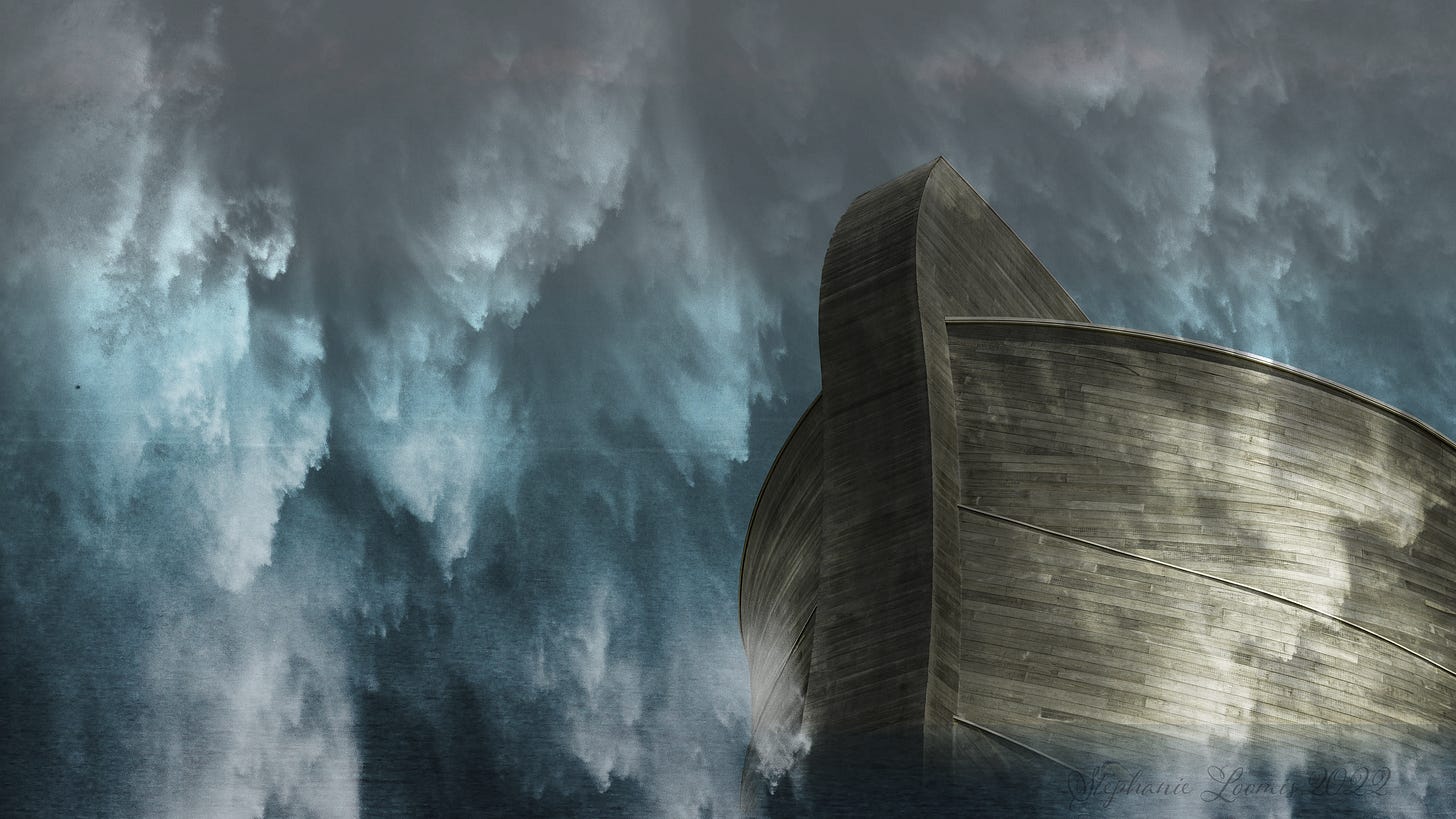 Without question, God rescued Noah and his family. But there was work to be done still. God's grace toward Noah was freely bestowed, and Noah needed to accept that grace with his whole heart and his willing hands. God didn't tell Noah to be still and wait, but rather to take courageous action. Building a massive boat in the Mesopotamian desert using gopher wood (possibly cedar) imported from the surrounding mountains required mental fortitude, skilled engineering, and money. It wasn't that boats were unknown to ancient Mesopotamians; the Euphrates river was a primary conduit of trade through what is now Iran, Iraq, Syria, and Turkey. The boat that God told Noah to build was significantly larger and more detailed than any that had existed before.2 In the 70-120 years it took to build (scholars are divided and Scripture isn't explicit), Noah likely hired builders and artisans to complete the work, none of whom believed that a god of any kind would destroy them all.3
---
Grace does not sit still; it moves forward. Surely Noah and his family were subjected to ridicule for acting on the word of a single God when the culture worshipped many gods. Grace perseveres in the face of challenges. There is no record of God speaking to Noah again until after the Ark was complete. There's no indication that Noah asked questions of God but simply got to work, following the directions of God's word. When the work was complete God told Noah to gather animals and board the boat with his family. And God Himself closed the door.
We know the story because it is complete, but while Noah was building, what was he thinking? The directions were specific and God even gave Noah the rationale for the design. But in the space between the instruction and the first raindrop, did Noah wonder about his neighbors? the timing? why he was the only one given such grace? How did he maintain his faith as he was building the ark? What conversations did he have with his wife and sons?
We cannot know this side of heaven, but we do know that Noah did exactly as God commanded. He took his family and the animals in pairs, loaded them on the massive boat, and waited a week for the rain to begin.
How often do we wonder about the Lord's plan during times of uncertainty? There is so much waiting that we miss in Noah's story. Noah waited and worked on building the Ark for 70-120 years. He waited with his family, shut into the Ark for a week before the rain began. God has told him it would rain for 40 days and nights, but it took nearly a year for the waters to recede enough to move to dry ground (Genesis 7-9). Noah had some information, but not the whole picture. So he, like us, had to work out his salvation, trusting that the Lord would be faithful in his promise of deliverance.
Grace is an undeserved gift from God. Noah was recognized for his righteousness, but his was the only family redeemed from the great flood. The Law came generations later, after God's people continued a cycle of rejecting His commands and repenting after judgement. Even with specific laws to follow, the people still could not (and would not) obey. No one is righteous under the Law; it is impossible to live in perfect holiness (Romans 3:20,23). Adam's sin is in us all. Look at our post-Christian world and compare current culture to both Genesis 6 and Romans 1. Debased minds, evil, covetousness, malice, envy, insolence: it's a long list as current as this morning's news. Like Noah, we have an escape through Jesus. Paul wrote,
But now the righteousness of God has been manifested apart from the law, although the Law and the Prophets bear witness to it—the righteousness of God through faith in Jesus Christ for all who believe. For there is no distinction: for all have sinned and fall short of the glory of God, and are justified by his grace as a gift, through the redemption that is in Christ Jesus, whom God put forward as a propitiation by his blood, to be received by faith. This was to show God's righteousness, because in his divine forbearance he had passed over former sins. It was to show his righteousness at the present time, so that he might be just and the justifier of the one who has faith in Jesus. (Romans 3:21-26).
The end is predetermined. Jesus said, "Heaven and earth will pass away, but my words will not pass away," adding, "be ready, for the Son of Man is coming at an hour you do not expect" (Matthew 24). Noah continued building until the Lord told his to board the Ark. We must continue our work as well, until the Lord returns in glory. God's grace toward us in the redeeming work of Jesus must must motivate us to persevere in offering grace to each other. Our response should mirror Noah's: persist in obedience in the waiting, knowing that God's promises of redemption will be proved true in His time.
References