The wine
John 15:1-8; Psalm 34:8; Galatians 5:22; 1 John 4:7-17 ; Hosea 9:3-5; Exodus 29:40; Romans 11:11-24
A quick recap
The focus of John 15 is the role of the vine to the branches, and thereby to the fruit. The vine grows from the rootstock and is vital to the life of the plant. The vine connects the root to the branches and it is through the fruit-bearing branches that the vitality of the root and vine are revealed. The root and vine do not need the branches to live, but the branches are quick to die without the sustenance provided by the root through the vine. Additionally, branches from one varietal may be grafted onto a stronger vine and rootstock to avoid disease and strengthen the health of the vineyard.
A good winemaker knows which branches will bear good fruit, and the lesser branches are cut away and destroyed. Remaining branches are trained and tied so that the fruit has every opportunity to develop depth of flavor. There are times when good fruit is cut away to promote production of the best fruit. Every cut is for the benefit of the vineyard and the quality of the wine it will produce.
As the branches grow heavy with grapes, the time for harvest and the winemaking process begins.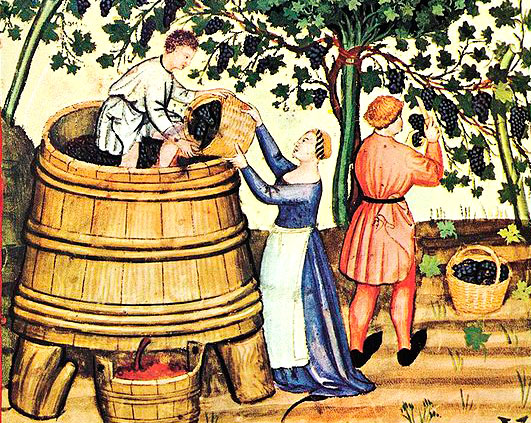 Transformation
Making wine is both science and art, with multiple steps and decisions that will affect the quality and flavor of the wine produced. An excellent breakdown of the process is here. From harvest to fermentation to bottle is a labor of love for the winemaker, whose primary goal is not necessarily to make money (there are far more predictable ways to do that), but rather to "bring pleasure to those who drink it" (Anson, 2018).
The transformation beings at the harvest. When and how to harvest are decisions made partly by science (wind, temperature, weather events) and partly by instinct. Mechanical harvesting is quicker, but hand harvesting allows the grower to be selective. Grapes are then sorted and unwanted elements (damaged grapes, insects, leaves, etc.) removed before destemming and crushing. Again, crushing can be mechanical or done by human feet. The first crush produces the highest quality juice and subsequent crushing and pressing separates all the liquid from the solids.
Crushed and pressed
No winemaker can expect the finest wine to come from grapes that are improperly planted, growth, nurtured, harvested, and pressed. Similarly, we who are believers must not expect our faith to be mature and our obedience to the Lord to be perfected without His nurture and His pressing. Good fruit comes from meticulous care. Good wine comes with a change from one form (grapes) to another (juice). Grapes left on pruned branches rot and decay; they are not changed, but rather are rendered useless. In the metaphorical sense, believers are pressed like the grapes, not to destroy us, but rather to extract from our lives the best part of what the Father has called us to be and to do. Paul wrote,
"Therefore we do not give up. Even though our outer person is being destroyed, our inner person is being renewed day by day. For our momentary light affliction is producing through us an absolutely incomparable eternal weight of glory. So we do not focus on what is seen, but on what is unseen. For what is seen is temporary, but what is unseen is eternal."

(2 Corinthians 4:16-18)
Suffering often feels like destruction to us because we have finite minds. We make decisions based on what we see, but the winemaker makes decisions based on what he knows will be. God allows us to be pressed and squeezed and drained, not to harm us, but that His perfect will might be revealed through us. The best wine is impossible without the crushing of the grapes.
Fermented, changed, and waiting
Crushing and pressing are active processes, but good wine also requires waiting. Fermentation takes time as the natural sugars are converted to alcohols with a number of antioxidants, digestive enzymes, and probiotics. Fermentation takes the juice pressed from the fruit and changes its chemistry. Wine is not the same as juice, even though both come from the same fruit. Juice is full of sugar, calories, and is highly perishable. There are arguments about the virtues of wine, but it is the most common drink mentioned in the Bible, and the Lord chose wine for a drink offering as far back as Exodus 29. Jesus, Himself, used wine as a metaphor for the blood he would shed on the cross (Luke 22:14-20.) If the metaphor is good enough for the Savior, it is sufficient for illustration of how God uses the liminal spaces of our lives to change His children.
Waiting is hard. Change is hard. Suffering is hard. But Paul reminds us that the promise of what is to be and what is to come is worth the trials of life. In fact, God requires us to persevere through difficulties for a number of reasons: to develop character, to trust His plan, and ultimately to be part of His glory revealed. This life, with all its challenges and hardships conforms us to the image of Jesus. Paul wrote, "For I consider that the sufferings of this present time are not worth comparing with the glory that is going to be revealed in us"(Romans 8:18). And James wrote that we are to "count it all joy" when faced with trials because the tests make us steadfast (shelf-stable) and complete (James 1:2-4).
Once wine is fermented, it is traditionally placed in oak barrels to evolve and develop complex and balanced flavor. The wood infuses the wine with flavor, aroma, and texture over time. Both the size and age of the barrels affect the wine, and the length of time in the barrel depends on the taste the winemaker wants to achieve. A small barrel will produce a flavor extraction faster than a large barrel, but a large barrel will afford a larger quantity of a consistent flavor over time. Time in contact with the wood is critical to fully develop the character of the wine.
Similarly, time in contact with the Word of God develops Christian character over time. Trials and suffering speed to process by bringing believers face to face with their inability to rescue themselves from their nature and stripping away anything that interferes with their relationship to God. But there are times, too, where growth doesn't require hardship. There are times when God allows His children time to rest in His arms, to dwell in His Word, and to simply go about the work He provides. Not every moment of life is dramatic. There are more days we might consider mundane than any other kind of day. But God speaks to us in the ordinary when we are faithfully in the Word, working out our daily tasks, however unremarkable we might think they are. In waiting, we are transforming. Elisabeth Elliot wrote, "I do know that waiting on God requires the willingness to bear uncertainty, to carry within oneself the unanswered question, lifting the heart to God about it…" (2002). Like the wine in the barrels, we are transformed in the quiet times as we absorb the nature of what (or Who) holds and contains us.
Coming next: bottling, pouring, and tasting.
References
Images, unless otherwise noted, are public domain
Anson, J. (2018). Anson: What drives people to make wine? Decanter. https://www.decanter.com/magazine/anson-why-make-wine-392180/
Caperso, A. ( n.d.) The wine-making process in 15 steps-part 1. Wine and other stories [Blog]. https://wineandotherstories.com/the-winemaking-process-in-15-steps-part-1-infographic/
Elliot, E. (2002). Passion and purity: Learning to bring your love life under Christ's control. Revell.
Evans, T. (2019) Tony Evans Bible Commentary. Holman Bible Publishers.
ESV Reformation Study Bible (2015) R.C. Sproul (Ed.). Ligonier Ministries.
Hanson, D.K. (2021). Wine vs grape juice: Which is better for health and long life? Alcohol problems and solutions [blog] https://www.alcoholproblemsandsolutions.org/wine-vs-grape-juice-which-is-better-for-health/
MasterClass Staff (2020). What is fermentation? Learn about the three different types of fermentation and six tips for homemade fermentation. MasterClass [blog]. https://www.masterclass.com/articles/what-is-fermentation-learn-about-the-3-different-types-of-fermentation-and-6-tips-for-homemade-fermentation#what-is-fermentation.
New Cultural Backgrounds Study Bible. NRSV (2019). J.H. Walton and C.S. Keener (Eds.) Zondervan.
Redhead Blogger (n.d.) How to age wine in oak barrels. Red head Barrels [blog]. https://redheadoakbarrels.com/how-to-age-wine-in-oak-barrels/.